The excitement of the Halloween countdown is almost here! You can use this cute Halloween countdown calendar to help mark off the days to wearing costumes and trick or treating.
Be sure to check out our most favorite family fall tradition and learn How to start a Boo in your neighborhood. We have so much fun doing this.
How to Countdown to Halloween
We've created a FREE 8×10 free printable for you to enjoy! Are your kids already geared up for Halloween CANDY? This super cute Halloween advent calendar helps your family count down the days in October until you wear Halloween costumes and snag some spooky treats… and BONUS this clever calendar helps avoid the repetitive, "When is it time for trick-or-treating?" question!
>> Download Halloween Countdown to Candy Calendar <<
This would be cute framed, pinned onto a chalkboard or just clipped on the fridge. Oh and don't worry, if you're out of the trick-or-treater phase and just want an October countdown for yourself, we've gotcha covered.
Halloween is such a fun time of year and we hope you enjoy this countdown to Halloween calendar! Happy Halloween.
Limiting sweets? Here is another version that says countdown to Halloween.
>> Download Halloween Countdown Calendar <<
MEET THE SISTERS FROM LOLLY JANE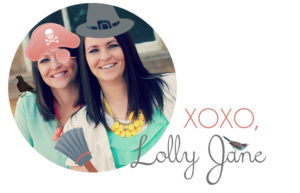 Twin sisters Kelli & Kristi of Lolly Jane, have a popular DIY craft blog where you will find loads of crafts, decor, and holiday inspiration.
More Holiday DIY Countdown CALENDARS
You know how much I love holidays and decorating! If your kids get as excited as mine, they will love crossing off the days in anticipation of other holidays. We also love to countdown to Christmas with an Advent Calendar.