This vintage handkerchief apron makes a stunning handmade gift, if you can bear to give it away. Why not make some for all your favorite people?  Handmade gifts  always mean more and are cherished forever.  This month we are sharing over 100 handmade gift tutorials. I have teamed up with Thirty Handmade Days and Your Homebased Mom to share the best homemade gift ideas.  We have over 100 tutorials so you will have the best homemade holiday ever! Each day be sure to visit the guest poster's blog for a chance to win BIG! Up for grabs is a Cricut cutting machine, a Blendtec blender, a Baby Lock sewing machine and a $300 Michaels gift card! Grab a new entry every day! Visit Flamingo Toes today to enter to win the Baby Lock Sewing Machine.
Colorful Vintage Handkerchief Apron
Hello Skip to My Lou readers!! I am so excited to be here!
My name is Bev and I blog over at Flamingo Toes.
I love sewing all sorts of projects – but I have a special love for all things vintage. It is pretty much my favorite thing to take something old and maybe sitting on thrift store shelf, and turn it into something pretty and fun! That is just what I have for you today! This Colorful Vintage Handkerchief Apron is soooo easy and quick to make and it would be a great gift or just something fun to wear for your Christmas baking.
It's made up with a few bright vintage handkerchiefs – you can use some family linens if you have them or check out Etsy, ebay or thrift and antique stores. I find them all the time.
I've finished the waistband in one of the easiest ways ever – with some satin blanket binding! No cutting out a bunch of fabric – just a little sewing and you're done!
How to make a Colorful Vintage Handkerchief Apron
Here's your materials list:
6 vintage handkerchiefs at least 11″ x 11″
lining fabric  – 15″ x 33″ – I recommend something light
satin blanket binding – 2 1/2 yards
Sewing machine, scissors, pins, etc.
Start by laying out your handkerchiefs to see what order you'd like them in. You'll need two rows of three. I would choose handkerchiefs that are in good condition and not super thin.
Cut out your lining piece. Hem the two short sides and the bottom.
Sew together the handkerchief rows. Overlap the handkerchiefs so the prettiest edges are on top, and sew them together to make two strips of three. Sew an easing stitch along the top edge – which is just basically a gathering stitch that is only very lightly gathered.
Lay out the lining and lay the bottom ruffle of your apron over the lining so it hangs over the bottom of the lining about 1″. It should measure from the top of the lining to the bottom of the handkerchief row 15″. Pin in place and sew this ruffle down, just inside the top edge of the handkerchiefs. The handkerchiefs should overlap the sides also just a little bit.
Sew the top row of handkerchiefs together and sew your easing stitch along the top. Line the top of the handkerchiefs up with the top of lining and baste together with a gathering stitch. Gather the top edge up to measure 18″.
Cut a length of your blanket binding 2 1/2 yards. Measure out the center 18″ of the binding and mark with pins. Place the apron skirt between the pins in the opening of the binding. Pin in place well.  Sew the binding closed all along the open bottom edge, sewing the apron skirt in place as you go. Fold the ends in if you wish to form an angled end. Isn't this pink ombre ribbon binding fun??
And that's really it! So fast right? I think it would make such a sweet hostess gift.
I hope you like it!
I'd love for you to come say hi over at Flamingo Toes!
Here's a few of my other favorite projects: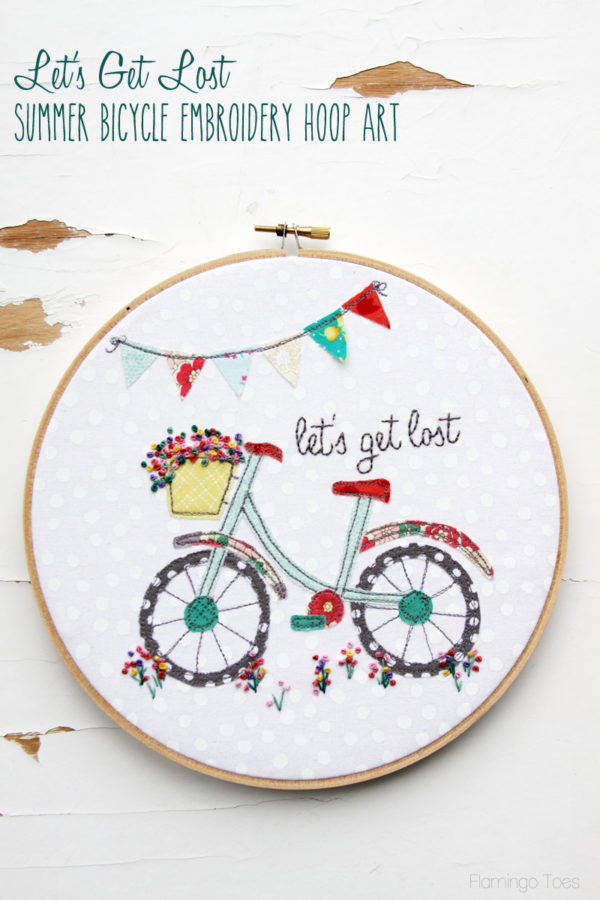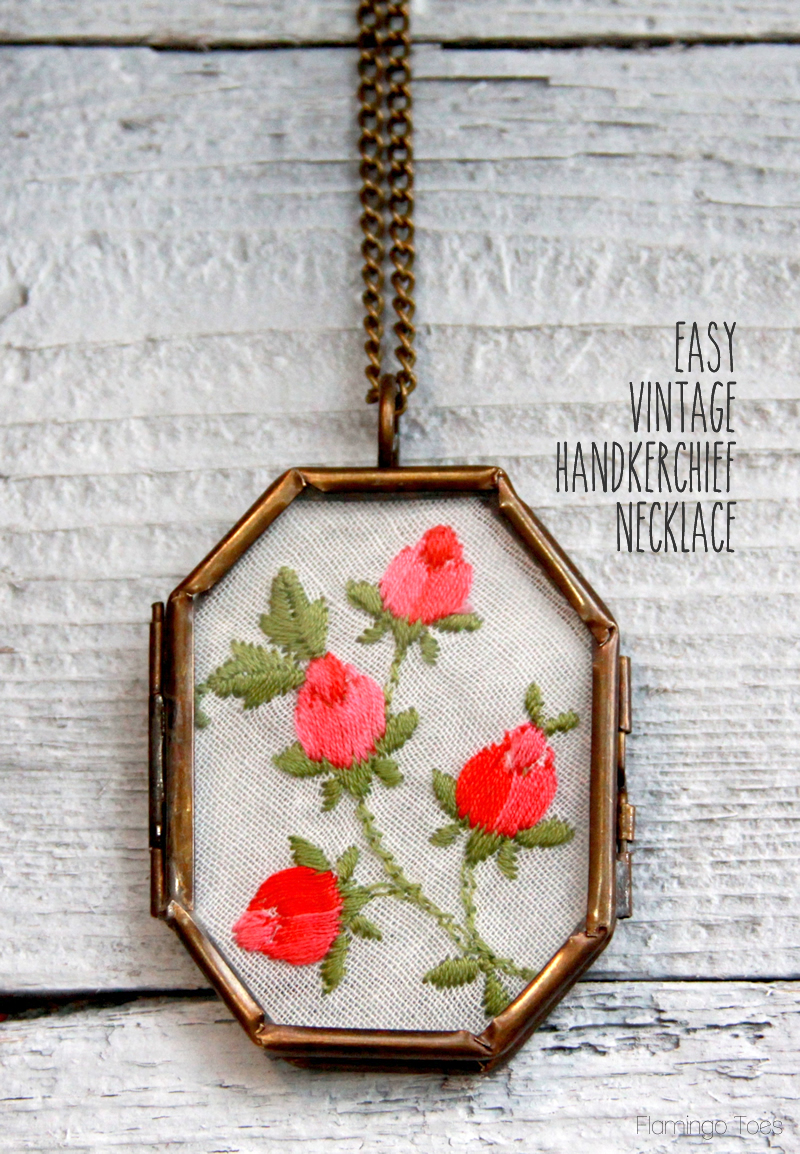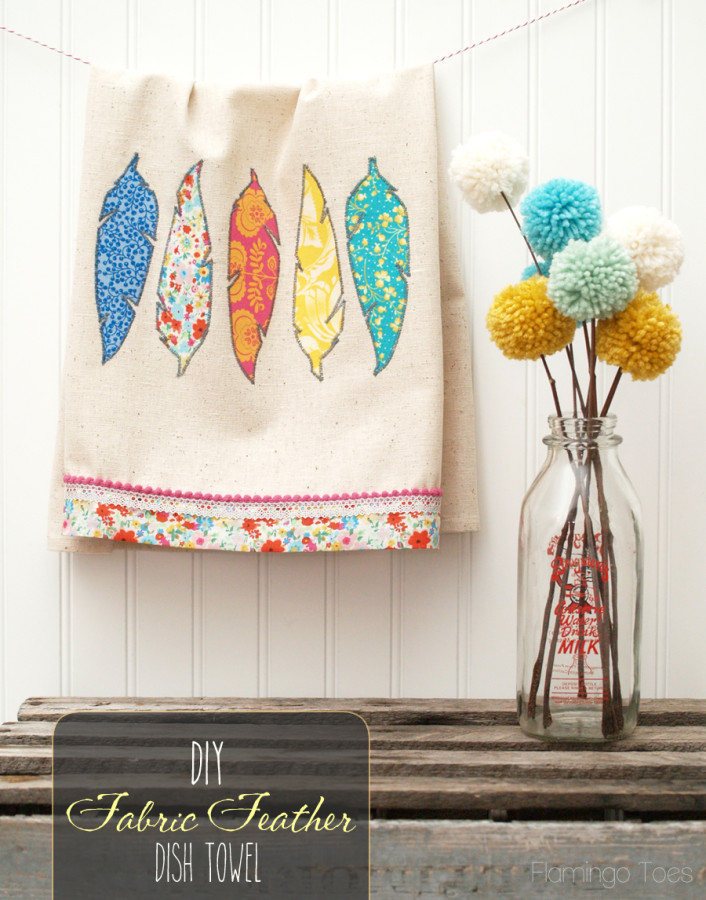 You might like to embellish your apron or one of your sewing projects with one of these lovely fabric flowers.