Make Somebodys Day! Send Good Vibes. Everything you need over 50% OFF. Learn More
This theme print zipper pouch is a fun project you can put together in a afternoon. I love zipper pouches and they are easier to make than you might think. Do not be afraid to install a zipper! Make this Knotted Frayed Scarf, it's a practical and cute gift idea for any girl friend on your list. This darling Felt Christmas Gnome will make a friendly decoration under the tree, make it bigger to make a pillow.
This month we are sharing over 100 handmade gift tutorials. I have teamed up with Thirty Handmade Days, Classy Clutter and Your Homebased Mom to share the best holiday decorating ideas and homemade gift ideas. We have over 100 tutorials so you will have the best homemade holiday ever! Each day be sure to visit the guest poster's blog for a chance to win BIG! Up for grabs a Baby Lock sewing machine a $100 in Riley Blake Fabric! Grab a new entry every day! Visit Jedi Craft Girl today to enter win the baby lock sewing machine and fabric bundle!

Hi It's Amanda from Jedi Craft Girl, I'm a designer for Therm O Web and I'm so happy to be here!! Today I am sharing something I LOVE!!! Zipper Pouches! I can't have enough of them and I love to give them as gifts. In fact, the ones pictured in this tutorial are actually what I'm giving my nieces and nephew for Christmas. I have created this pattern so you can use your favorite theme print fabric and tailor it to who you are giving it to. I even have Star Wars version 🙂 Let's get started!!
Supplies
1/4 yard outer bag fabric
1/4 yard lining fabric
1/8 yard accent strips
small scraps for theme print 5″ x 6 1/2″
Heat n Bond fusible fleece
Spray n bond
12″ or longer zipper
Cut the pieces according to the above cutting guide.
Fuse the heat n Bond Fusible Fleece to the wrong side of the (2) outer bag pieces.

Cut the 1.25″ accent strip into (4) 6.5″ x 1.25″ strips.
Press the accent strips in half lengthwise.

Align the raw edges with the edge of the theme print fabric and sew a 1/4″ seam. Do this to all (4) sides of the (2) theme print pieces.
Press the accent strips so the seam allowance is toward the theme print.
Using the Spray n Bond (temporary basting spray) spray the theme print piece and position it on the outer bag, centering. Topsitich along the seam to finish.
Inserting the Zipper
Note: This tutorial is for a zipper with zipper tabs. You can find more instructions HERE if you need a little extra help. You can also use the"Open Wide" zipper method by clicking HERE for my friend's tutorial." I used both.

Using the extra from the 1.25″ strip, cut (2) pieces 1.25″ x 5″. Press them in half, and then press the raw edges under 1/4″.

Lay the zipper out positioning it on top of one of the outer bag pieces. Position the tabs so they overlap each side of the bag 1″. Cut the zipper to fit inside each tab. Pin in place.
Sew 2 times along the edge of the tabs as pictured above.
Cut along the fold of the zipper tab and cut away the excess zipper, leaving about 1/8″ of zipper. This makes it so there is no bulky zipper in the side seam of the zipper pouch.
Position the zipper right sides together with the outer bag piece. Notice the zipper tabs are hanging over, not to worry, we will square up in a minute.
Next position one of the lining pieces right side down on top of the outer bag with zipper in between.
It should be layered together like the picture above. Pin and sew 1/4″ seam along the top edge using a zipper foot. Trim off the excess zipper tab so it is square with the outer bag.
Press the outer bag and lining piece so it looks like the above picture.
Topstitch along the edge (above). Then repeat with the other side of the zipper, aligning the pieces just like we did above.

This is how it should look once the zipper is inserted (above).
Making sure the zipper is open, match the lining pieces together and the outer bag pieces together and pin all the way around.
Make sure to push the zipper tab toward the lining piece and pin, matching the zipper seams. Sew all the way around the zipper pouch using 1/4″ seam. Leave a 3″ opening at the bottom of the bag for turning.

Cut a 1″ square notch out each corner. Open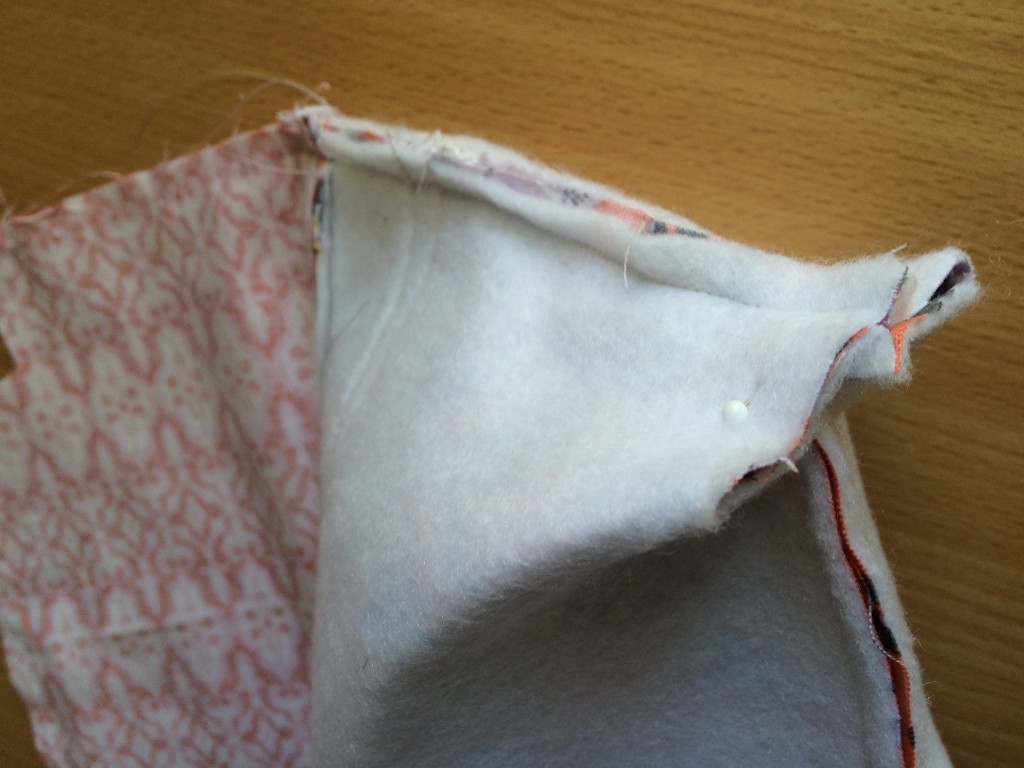 Open each notched corner and match seams. Sew a 1/4″ seam, backstitching to start and stop. Turn right side out and topstitch the opening closed.

Your done! You can see from the photo that I used a zipper tab on one and then the open wide zipper method on the others. It's just preference 🙂

For my nieces I am including a cute nail file, an EOS, and some yummy smelling hand sanitizer. You could also include a small perfume, lotion, gum, notebook and pen. One of my nieces is a ballerina and I know she's going to love this darling fabric by Heather Ross!
My other niece loves the ocean and fish so this Saltwater fabric by Riley Blake will be just perfect!.
For the boys (which are always harder for me to buy for) you can include a small flashlight, deck of cards or other small game, PEZ dispenser or candy, small action figure or car. I also purchased a whoopee cushion to include, just to drive my sister crazy!!
Thanks for stopping by! It's such a party over here on the Skip to My Lou blog!!!!