Look at the Spooky Pancakes from TidyMom!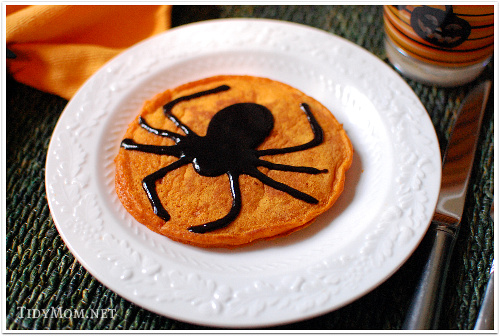 Just think of the fun the whole family will have making their own
spooky pancakes
!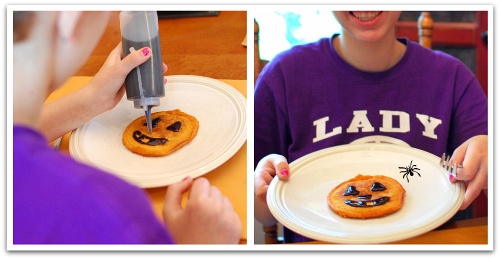 Cheryl used her own  Pumpkin Pancake recipe and added a little orange food coloring to make them extra "festive".
Make the pumpkin pancakes  SPOOKY with Black Cinnamon Syrup. The cinnamon is a nice compliment to pumpkin pancakes but, if you make the pumpkin pancakes and serve with this syrup, you could cut down or even leave out the cinnamon in the pancakes.
1/2 cup granulated white sugar
1/2 brown sugar
2 Tablespoons all-purpose flour
2 teaspoons cinnamon
1 teaspoon vanilla
1 cup water
black food coloring gel
In a small saucepan combine sugars, flour and cinnamon. Add vanilla and water. Over medium heat bring mixture to a boil, stirring continuously. As it heats squirt in a little of the black food coloring and mix in, add more until it's as dark as can be (it doesn't take much). Allow to boil for a few moments until the mixture has noticeably thickened. Remove from heat and allow to cool enough to put into a plastic squeeze bottle. Syrup can be made ahead and refrigerated.  Warm syrup before serving by placing the squeeze bottle in a bowl of warm water (not boiling). Let each person decorate their own pancake!
There's nothing SCARY about making these pancakes!
Thanks Cheryl for such good ideas, pictures and recipes!