I'm Rin, visiting from my sewing blog, Sew in Love. This kids apron made a fantastic present for my niece's birthday, who turned six this year. She looked so grown up in her little apron, and it made Mom happy too, with a very willing kitchen helper now in the house.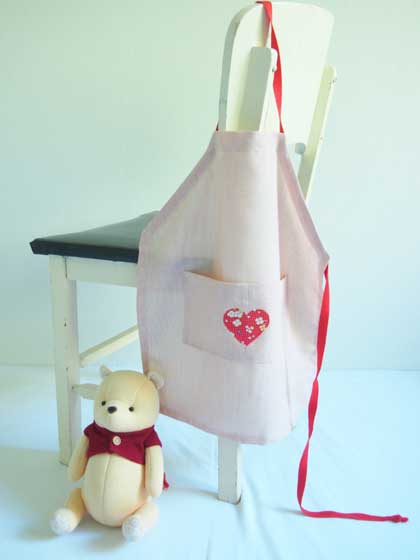 The neck strap and waist tie of the apron are actually one long piece of fabric webbing tape, which makes it adjustable and easy to fit most kids. You can decorate the front pocket with any motif that the child likes, or in my case, a cute red love heart. Some other ideas could be using the child's first name initial or a cut out of their favourite cartoon character. My niece loves unicorns, but I couldn't find a nice unicorn fabric to use. Luckily, she was pretty thrilled with the love heart cut out of red floral fabric.
There's lots more cute, free sewing patterns and tutorials on my blog. We can keep in touch via Facebook or Twitter @SewinLove. Hope you can pop in to say hello soon. 🙂
What you will need:
Denim or canvas fabric
Cotton webbing tape in a matching colour 15mm x 1.5m (0.6 inches x 60 inches)
Printed fabric to use as motif
Iron on adhesive sheet/web
Instructions:
Cut out the apron and pocket using this sewing pattern.

Fold all edges of the apron to seam allowance (shown above in red) and press with an iron.
Stitch the edges in the order shown.

To make the pocket, right sides facing, stitch two pocket panels together.

Fold all edges of the pocket and press with an iron. Stitch the top edge.

Attach pocket to the apron.

Attach desired motif to apron. I recommend you use an iron on adhesive.
Thread cotton webbing through apron. Tie a knot at each end of the webbing.