I love to clean with baking soda, it is nice to avoid all those harsh chemicals. Here are few recipes I use to clean several common household jobs. Don't miss my stainless steal cleaner recipes and my DIY shower cleaner, both are some are my favorites.
It's easy to get a sparkling clean stainless steel sink. First you clean and rinse the sink.
Sprinkle baking soda evenly over the entire sink..
Scrub, especially the corners.
Go heavy on the drain. Drains can get really stinky.  Baking soda will naturally help refresh a stinky drain.
  Unclog a Drain
Stubborn drain clogs can be frustrating! Before you call the plumber! Try this! Pour about a 1/2 box of baking soda in the drain. Then pour in about a cup of white vinegar. Let this mixture sit in the drain for about 15 minutes. After 15 minutes pour about 4 quarts of hot or boiling water down the drain. This should do the trick. If not, plunge a few times (yes a toilet plunger really works). If that doesn't loosen try a second cup of baking soda followed by pouring another 1-2 cups of vinegar down the drain. Run the disposal and water as well, it should be working. Rinse with cool water.
Ditch the strong chemicals and strong fumes for a more natural cleaning method.
Recipe
5T of baking soda
4T vinegar
3 drops Blue Dawn.
Mix into a paste and spread onto oven, let sit for 15 minutes then wipe clean. You may need to double the recipe for a larger oven.
In the ziploc bag, add 2 TBSP of Baking Soda and add 4-5 drops of blue dawn dish soap.
Place the bag around the faucet/shower head. Secure with a rubber band.  Add 1/2 cup vinegar. This will cause ingredients to foam and bubble. Soak for an hour.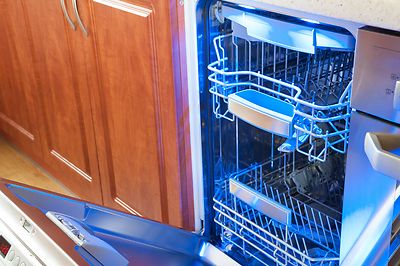 Use it to wash your dishwasher. After washing with vinegar, some baking soda will freshen it up and remove stains. I hate a stinky dishwasher!
Clean Grimy Baking Sheets
Put about 1/4 cup of baking soda in a small bowl and squirt in hydrogen peroxide until it makes a nice paste. Scrub dirt/stain/grease spots on your pan.  If it doesn't come off try letting it sit on the stain for an hour then it should come right off.  Your pan should be like new!
Check out my other guides!  From how to get your curls to last all day, organizing your pantry, even some dieting hacks!  Have you ever wondered how to get your fruit to last longer? I got you covered!  You can store things and make fruit last twice as long!  For more cleaning tips, check out my guide on how to clean with windex.