From hosting a shrimp boil, celebrating holidays, making homemade scratch art paper, sewing gifts and throwing parties to cooking delicious food, you will find it all here at Skip To My Lou. The site is full of free patterns, downloads and I hope plenty of inspiration. Please hang out with me awhile and check it out!
read more >
Reversible Sling Bag Tutorial
We are baking, sewing & crafting up a storm, preparing handmade gifts for this holiday season. I am sharing 30 wonderful sewn gifts from 30 amazing bloggers! Head on over to According to Kelly for 30 fabulous crafty gifts. A Southern Fairytale is spotlighting 30 edible yummies & holiday-inspired recipes.You definitely don't want to miss a day! Check out ALL of our creative projects HERE.


Hey there! It's Char from Crap I've Made.
I'm excited to be back for another year of the Holiday Bake, Craft, & Sew Along! (Guess that means I didn't screw it up too badly last year, right?)
Last year, I shared a zippered laptop sleeve tutorial. I think the zipper going around corners scared some people away, so for this year's project I'm going with something even a beginner sewist (don't say sewer) can do. This is a great handmade gift for the tween and teen age girls on your list (and being the parent of one, I KNOW how hard they are to make stuff for).
Reversible Sling Bag Tutorial
Supplies:
1 yard of exterior fabric
1 yard of interior fabric
Printed pattern pieces (printed with the page scaling turned OFF) + one piece of 8.5 X 11 paper
Scissors, pins, sewing machine, thread
Print the 2 pattern pieces. Lay them and the extra piece of paper out like this: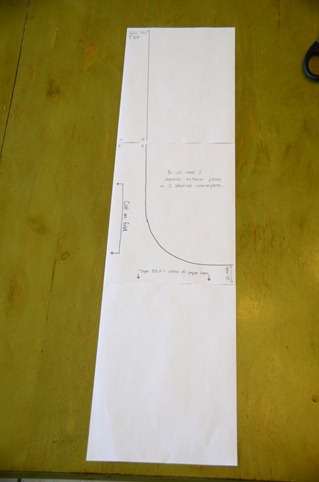 Tape the pieces together without overlapping.
If you fold your yard of fabric in half again lengthwise, matching the fold from the bolt to the selvages, you can cut out both pieces at once. BE SURE TO PLACE THE LONG EDGE OF THE PATTERN PIECE ON THE FOLD!!!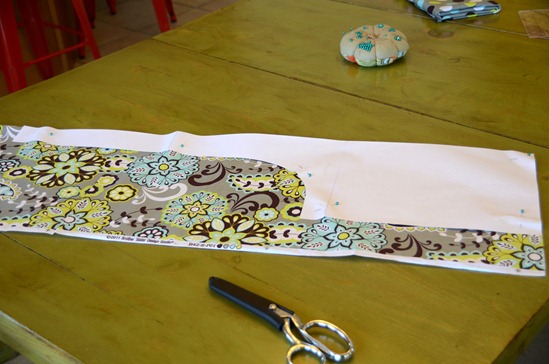 You'll cut 2 pieces from your exterior fabric and 2 pieces from your interior fabric, so you'll end up with 4 pieces that look like this: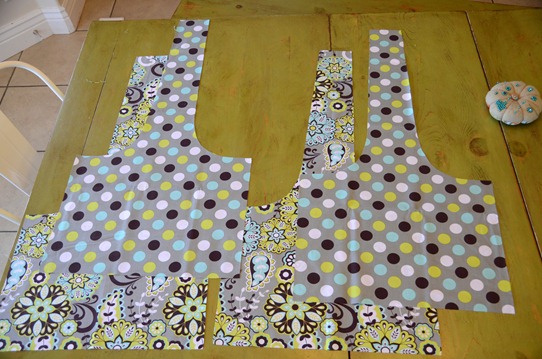 The assembly instructions are the same for the exterior and the interior pieces. All seams are 1/2", unless otherwise specified.
Place pieces right sides together and sew side seams (indicated by the red lines).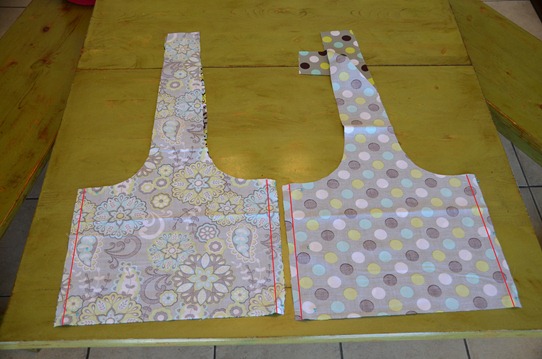 Press seams open.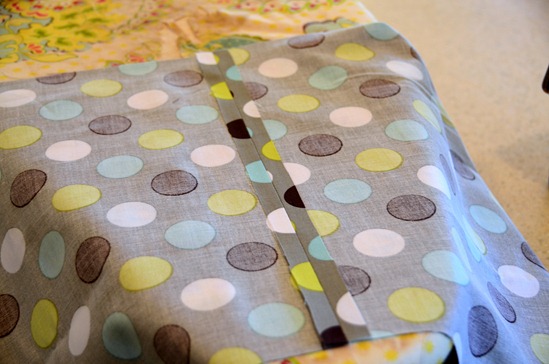 Line seams up (pin, if you want) and press flat. Sew bottom seam, as indicated by the red line.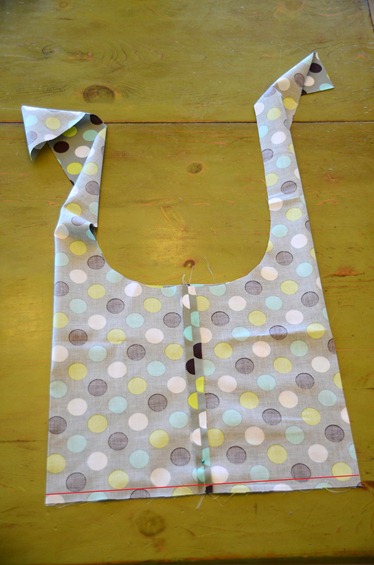 Next we're going to box the corners. Fold/press/whatever your corners like this: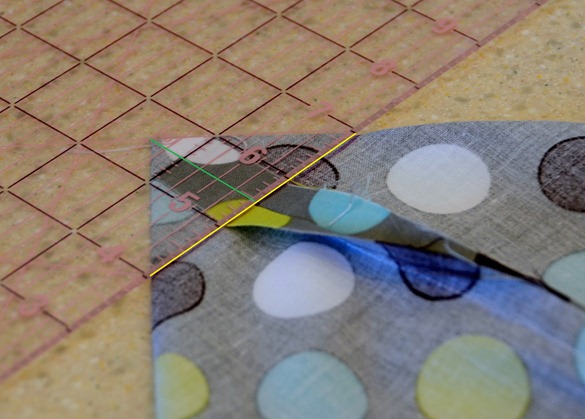 The measurement along the green line is about 1.5". The measurement along the yellow line is about 3". I drew a line with a disappearing ink pen to follow when I sewed.
Sew along the line and then clip off the excess fabric.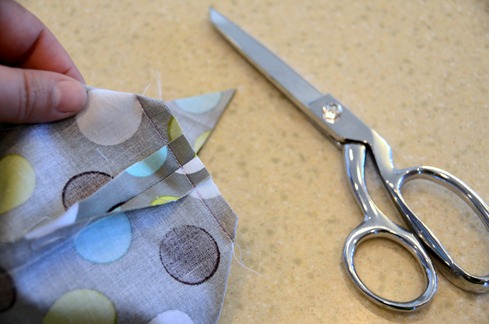 Turn the exterior bag right side out and slip it inside the interior bag. Match up seams and ends and pin.
Decide which one of the ends of the strap is going to be the "big" one. You're going to turn the entire bag right side out through this end. There will be a moment when you're not sure how it's going to work out, but trust me, it will…just like child birth.

Mark it somehow. I used 3 pins.
The other end of the strap will be the "small" one. When you sew this end, you're going to want to taper it *just* slightly. The blue lines indicate the normal stitch line. The purple lines are how you're going to sew this end.
I exaggerated the lines in this picture for illustration purposes. I'd start the taper about 1" from the end and taper in maybe 1/8" on each side.
Sew from the end of the strap, around the curve and up the other strap. For some reason the picture or this step is missing, so I made you a super helpful illustration: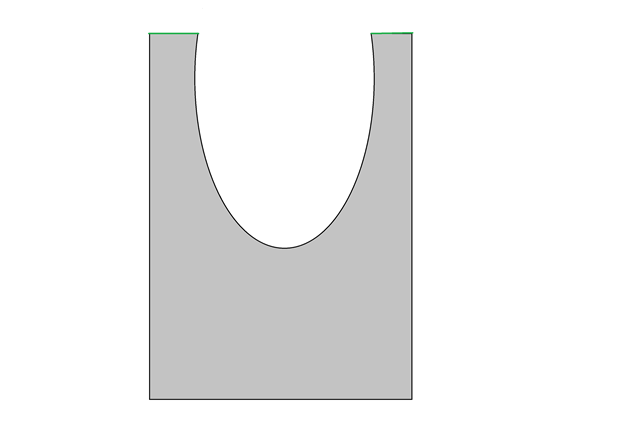 You'll be sewing along the big U shape and leaving the green lines on the ends open. Be sure to taper the "small" end. Repeat on the other edge.
You can clip the curves a bit now if you want to. I did on one bag and I did not on the other. I found it didn't make a whole lot of difference, so do whatever makes you happy.
Now you're going to turn the whole thing right side out through the "big" end.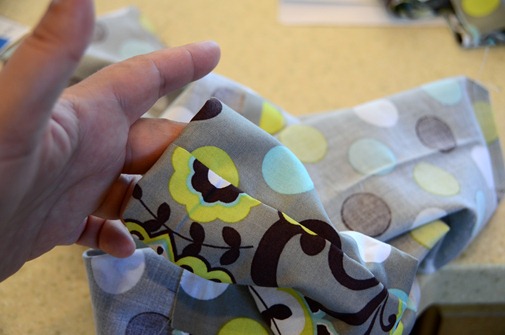 Go slowly and be sure things don't get too bunched up. You might need a buddy, but I promise this WILL work.
Press along the seams.
Take the "big" end and fold down approximately 1/2" to the inside.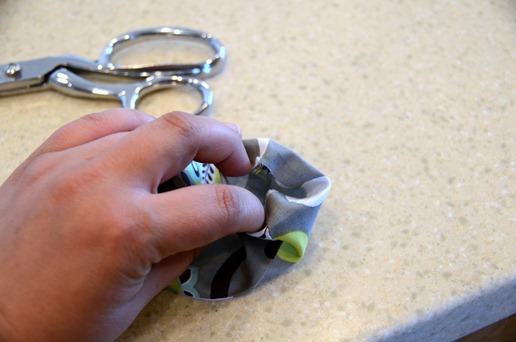 Press.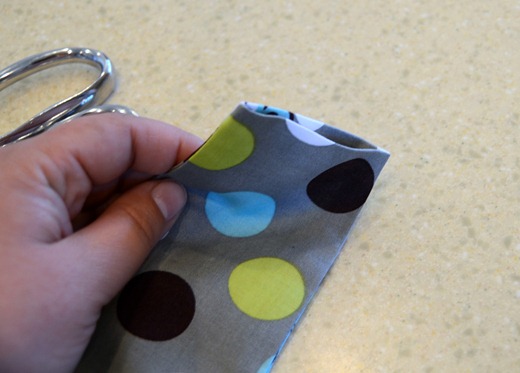 Slip the "small" end inside the "big" end.
And stitch a cute little rectangle to hold everything in place.
And you're done!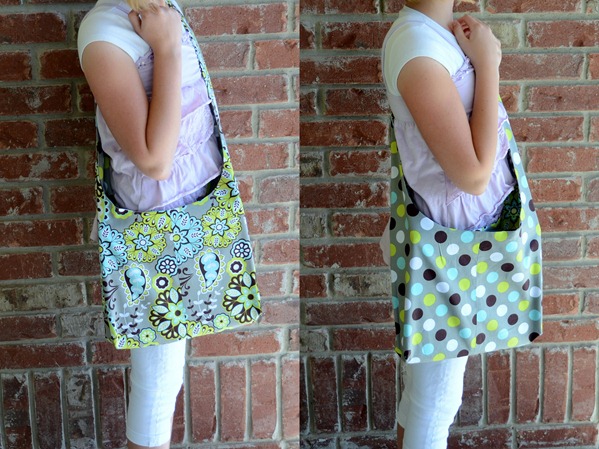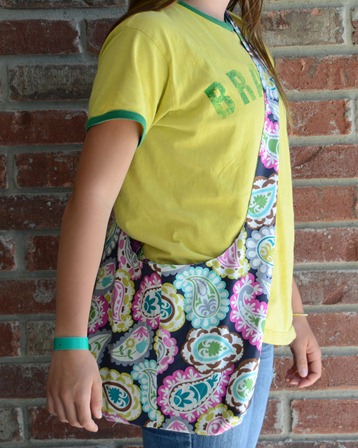 Only 3.5 months until Christmas, so GET SEWING!
---