I wish you a joyous and happy holiday filled with wonderful moments, enough to make loads of happy memories. Thank you for making my days bright by stopping here and sharing your time with me!
"For to us a child is born, to us a son is given…. And he will be called Wonderful Counselor, Mighty God, Everlasting Father, Prince of Peace." Isaiah 9:6

May you feel His peace today and always!
I had to share this lovely post from Sandy, Reluctant Entertainer. What a beautiful way to preserve family memories.
Sandy writes……
When my mother passed away, I inherited a large box of some of her Christmas decorations. After a few years of lugging this box in out and out of the attic and re-taping it each time, the box literally started falling apart.
So last year as I was getting ready to recycle the box, I cut out my Mother's precious writing of "Christmas" from it and tucked the piece away in my hutch for an entire year.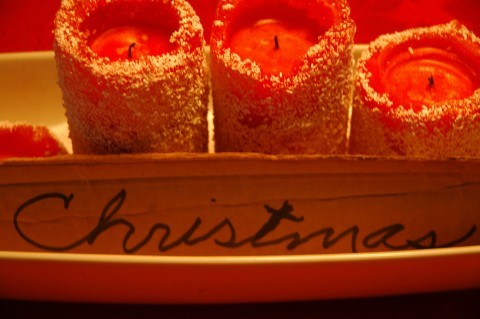 I couldn't wait to pull it out this year, because I knew I had plans for this cardboard piece. It also reminded me of this song, and the power that heirlooms can hold in a family. When Amy Grant sang this popular song years ago, my good friends Debbie Meador, Jane Houston and I also sang it at our Christmas service. Little did I know, a few years later, the impact of these words after I lost my mom to cancer.
Up in the attic
Down on my knees
Lifetimes of boxes
Timeless to me
Letters and photographs
Yellowed with years
Some bringing laughter
Some bringing tears

Time never changes
The memories, the faces Of loved ones, who bring to me
All that I come from
And all that I live for
And all that I'm going to be
My precious family
Is more than an heirloom to me

Wisemen and shepherds
Down on their knees
Bringing their treasures
To lay at His feet
Who was this wonder, baby yet king
Living and dying
He gave life to me

Time never changes
The memory, the moment His love first pierced through me
Telling all that I come from
And all that I live for
And all that I'm going to be
My precious savior
Is more than an heirloom to me

My precious Jesus is more than an heirloom to me
(Sung by Amy Grant, here.)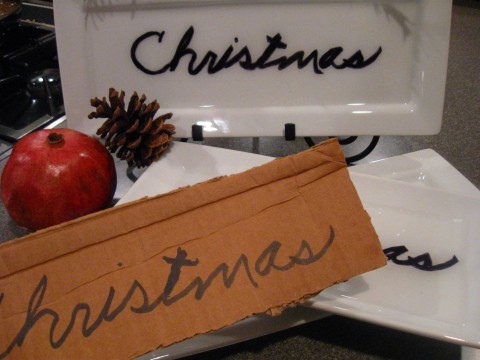 My Mom, Millie, is very dear to my sisters' and my heart, as we miss her very much. It's very special how the memory of a loved one can live on through heirlooms, pictures, videos, letters, and even writing.
So this year, this is what I gave my sisters for Christmas.
I stenciled Mom's writing of "Christmas" with a black Sharpie marker onto stencil paper.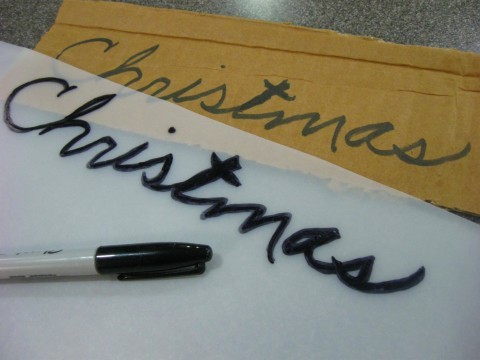 Then I cut it and glued it onto a white glass plate.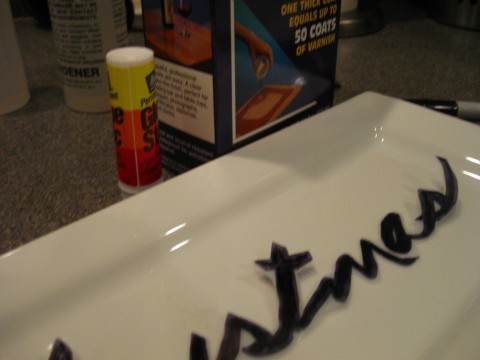 I poured a high gloss finish onto the plate.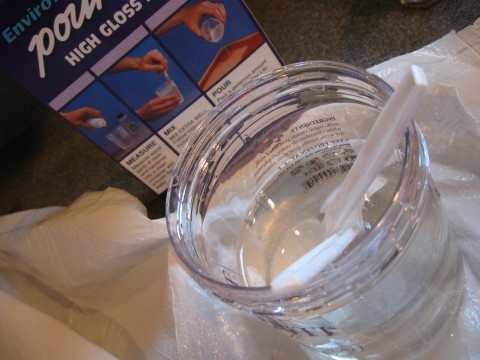 And used a hairdryer to get the bubbles out.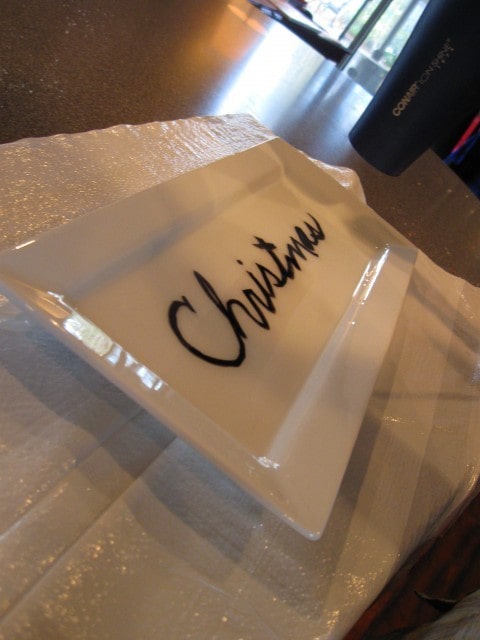 They are not perfect, but I think they turned out nice.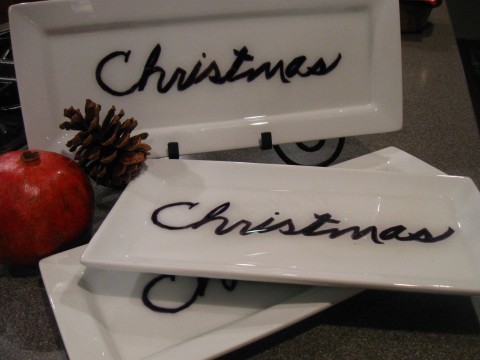 One for my sis Di, my sis Linda and me, with black plate stands to display and to keep Christmas alive, through our mom, in years to come, which hopefully we'll pass down to our kids!
More than anything else, I'm thankful for my family at Christmastime. I feel blessed. Yes. Very blessed.
What have you done to preserve your special family heirlooms or memories?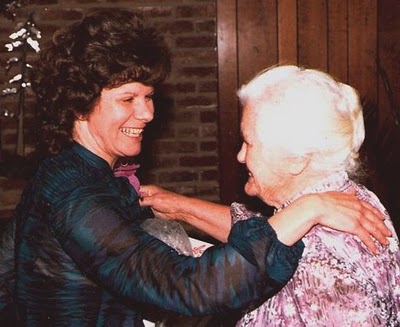 (Thank you Kelli Novak, for the inspiration! You may also enjoy An Elegant Toga: Grandma's Tablecloth, or a bit about sisterly love, or Can I please hold your hand? A Mother's Day Gift. Above photo is my beautiful Mother and her mother, Grandma Dubs.)