Make Amazing Gifts! Let me take the stress out of Holiday gift giving. Learn More
Hey Skip to My Lou fans! It's Cheryl, aka TidyMom and I'm so excited to be here today……..I mean, Cindy IS kind of "a big deal" ya know, and I'm just flattered to be here to share my take on a teacher appreciation gift! Baked goods are what I usually use to bribe show my love and appreciation to others, so it only seemed fitting to work with cupcakes today…….
I just had to share this picture of me and Cindy ……..you see we talk ALL the time, but had never met, even though we live just 4 hours apart. So last month Cindy and her sweet family came to St. Louis for spring break and we got to meet up for lunch! It was like meeting an old friend, no small talk, you just jump right in like you had just seen each other yesterday………Cindy is every bit as sweet in person as she is online!
Ok…….back to business!
Nothing says appreciation like a cupcake!!…….no wait, maybe that's my hips! lol Well, they appreciate cupcakes, and I'm pretty sure teachers do to- it's usually in the handbook, right next to apples. So I though, why not apple cupcakes!!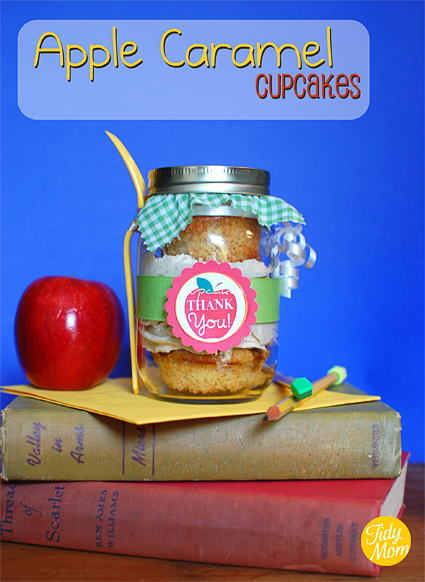 These cupcakes in a jar are super easy and are sure to be all the envy in the teacher's lounge.
For the cupcakes and frosting
Duncan Hines Apple Caramel Cake mix, follow directions right on the box for making cupcakes. (You can either spray your pans and bake with out liners, or remove liners later .)
Cinnamon Butter Cream (recipe below)
Cinnamon Buttercream
1 cup (2 sticks) butter, softened
2 Tablespoons whipping cream (you can you milk, I just like whipping cream)
1 teaspoon Vanilla Bean Paste (you can use vanilla extract, I just like fleck of vanilla in my frosting)
1 teaspoon cinnamon
4 cups powdered sugar
2 Tablespoons light corn syrup
In a large bowl, beat butter, milk and vanilla on medium low until smooth and combined (about 1-2 min), scrapping sides of bowl as necessary.
Add cinnamon, then slowly add powdered sugar one cup at a time on low until combined, scrape sides of bowl.
Increase speed to medium, and beat for 1 min.
Add corn syrup and beat on med high for about 30 seconds, then increase speed to medium high and beat for about 1 minute.
How to Make Cupcakes in a Jar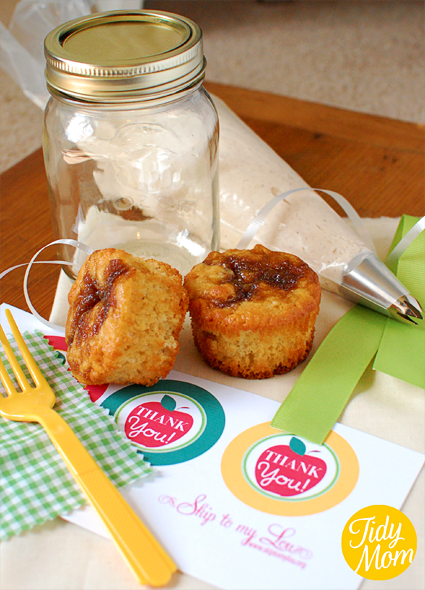 What you need:
Lets get started:
start with dropping one cupcake inside the jar, then using your icing bag and tip, squeeze buttercream on top of cupcake………repeat until you have 3 layers. * I sprinkled a little cinnamon and sugar on the last layer of buttercream.
Now your ready to make it all look pretty!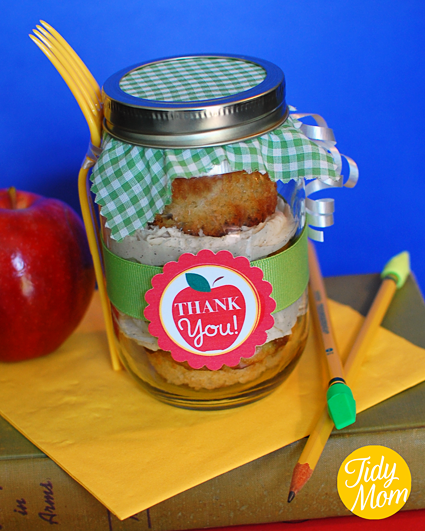 That's it ! You're all set!
Don't Forget to Thank a Teacher for all that they do!
TidyMom blog, on Twitter and on Facebook