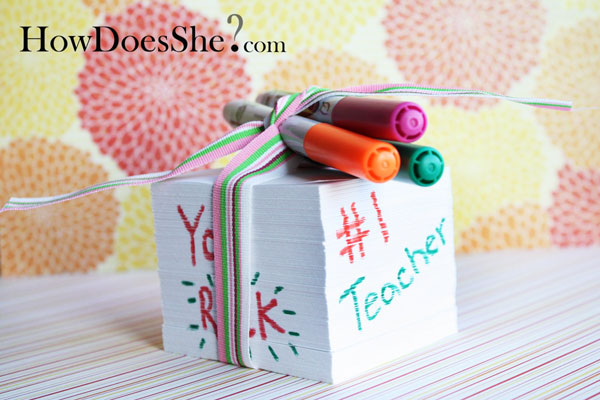 Well it was…almost too easy!
A ream of paper $3
Cut and 'padded' (it's the fancy word for gluing the edges of paper) at the office supply store = $8
9 gifts for $11! That's a deal!!
I wanted the ream cut into 9 squares as shown in the drawing above.
Yes, they are perfect squares…just use a little imagination. The office supply store cut them perfectly. I just wanted to show you how I had them cut the ream of paper and I don't have any skills in photoshop.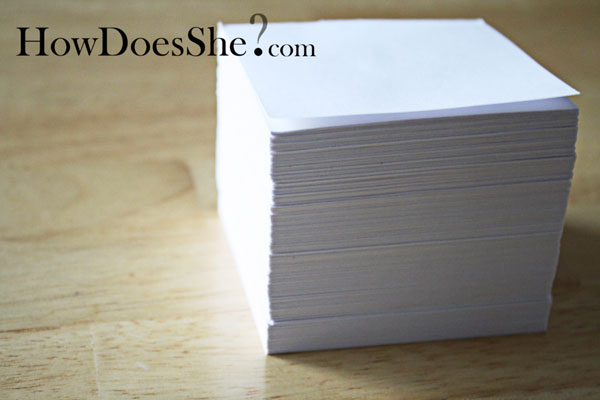 All this white paper just screaming to be drawn on!
This is a cool picture!
I did a little work for you. I told them to make a super tall(1000 papers tall) pad of paper, a short one (500 papers tall that's one ream), and one that is 350 papers tall. I think I like the one ream tall the best. The tower of super tall papers looked…like over-kill, and the 350 looked like I was cheap!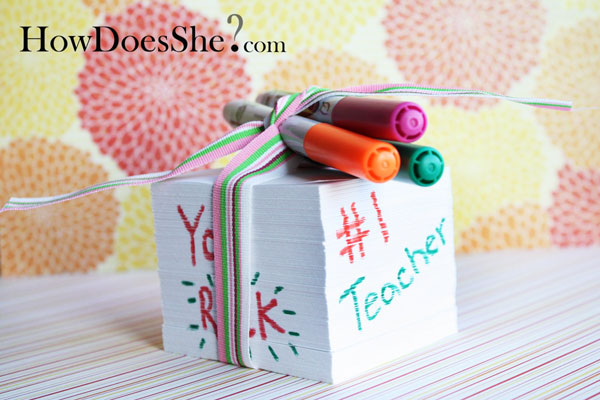 I had my kids draw on the sides of the pad to create a one of a kind teacher appreciation gift that a teacher could use! Scraps of paper for notes! We also tied new markers…well kind of new. I needed them to draw on the sides, but they'll never know! We put the teacher's name, You Rock, and #1 Teacher on the sides of the pad.
My daughter also made one for her Grandpa for an Easter gift. This would be awesome for a Father's day gift too! Wa….hoo….teacher appreciation gift and father's day gift in one shot! YES!
If you are wondering why I didn't 'pad' or glue the paper myself, I didn't want too. I priced the 'padding' and it was over $14 for one small jar. I figured I could pay someone $11 and not only get the same thing at a better price, but I didn't have to deal with the mess. Another good reason, I can't figure out how to cut 500 sheets of paper straight with a pair of scissors:)For more ideas on teacher appreciation gifts click here!