From hosting a shrimp boil, celebrating holidays, making homemade scratch art paper, sewing gifts and throwing parties to cooking delicious food, you will find it all here at Skip To My Lou. The site is full of free patterns, downloads and I hope plenty of inspiration. Please hang out with me awhile and check it out!
read more >
Cloth Napkin Tutorial
Welcome to the Bake Craft Sew Along! If you love to sew then you won't want to miss a day of sewn handmade gift ideas. According to Kelly is featuring gifts that can be crafted and A Southern Fairytale is sharing recipes perfect for making edible gifts! Don't forget to enter our SEW Amazing Giveaway. Just visit Simple Simon and Co today.
Hi!  I am Elizabeth from Simple Simon and Co where I blog with my sister-in-law (who is coincedentally also Elizabeth) about our mutual love of sewing, the art of homemaking, vintage pattern love and crazy thrifting adventures.  It's always exciting over at Simple Simon.
Right now over at my house, I am in the process of making handmade gifts for those on my Christmas list.  I really love handmade gifts, and especially ones that are simple but look so well-made.  And these mitered-corner cloth napkins fit that list perfectly. They are easy to sew, but will surely be used for holidays to come!  I am planning on giving them to my kids' piano teacher this year, with a loaf of homemade bread.  They would also be perfect in everyday fabrics for neighbors, or sisters, or moms–and they will be a gift that will be actually be used!
And when I say that these napkins are a cinch to sew—I really do mean it.  I spent about 1 hour total on all four of them.   So you can assembly line them and do as many as you would like.  I think the Christmast ones would be so pretty as place settings for a Christmas brunch or dinner this year!  (Let's see how many I can get done in the next couple of weeks 😉
Supplies for 4 mitered-cloth napkins:
*1 yard of white Kona cotton
*1 yard of Olive Kona cotton
*matching olive-colored thread
*embroidery floss in olive and cranberry colors
And here's how you make them…
And you are done!  Thanks so much for having us here at Skip to My Lou today….and be sure to head over to Simple Simon and Co, where we have a round-up of some of our favorite handmade Christmas gifts to share with all of you today!  See you there….
~Elizabeth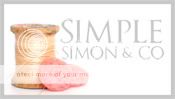 SEW Amazing Giveaway worth over $700
Stop by Simple Simon and Co  for more sewing inspiration and to enter the SEW Amazing Giveaway today (you only have today to enter)! I am giving away more than $700.00 worth of sewing goodies! You won't want to miss this!
---