I am excited to be offering 30 days of fun crafts to keep kids active and entertained this summer! You won't want to miss a day of these fun crafts for kids from some amazing bloggers! Please be sure to pay them a visit!

Marie, from Make and Takes writes………
I'm excited to be here at Skip to my Lou! I write a blog called
Make and Takes
with all kinds of kids crafts, home crafts, and easy recipes. And I'm excited it's summer to play with my kids, read lots of fluffy teen novels, and bake all kinds of yummy sugary treats!Even though school is out for the summer, we're still studying science! We're experimenting with water and if objects sink to the bottom or float at the top. We've got our
science observation notebook
and are now ready to take notes on our findings.
Supplies for Sink or Float Experiment:
science notebook and pencil
bowl of water or bathroom sink full of water
objects to test in the water: crayons, spoons, fruit, rocks, plastic toys, silly bands, etc.
1. Write down your predictions about each object on your notebook. Examine them, feel it, weigh it in your hands and decide what you think might happen.
2. Test each object in the water. See if it sinks or floats. Make sure to record what each object does in the water in your notebook.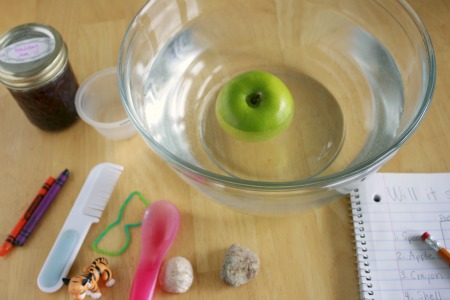 3. Go over the notebook and see if your predictions where right. Talk about why it sank or why it stayed floating on the surface. My children thought that the apple would sink since it was so heavy, but it floated at the top. And we all thought the shell was going to float since it was so light, but it sank right to the bottom.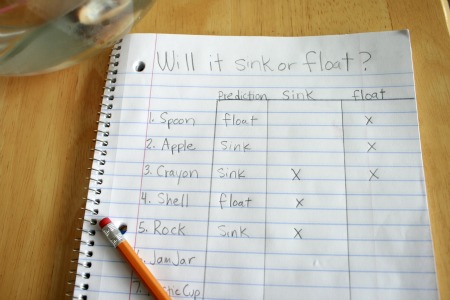 You might be surprised to find what objects sink and float in the water. We put in 2 crayons and one sank and one floated halfway. And writing it all down will help you remember what happened or if you decide to do this project again.
Hope all your scientists are enjoying their summer!