Make Somebodys Day! Send Good Vibes. Everything you need over 50% OFF. Learn More
Yummy edible gifts from your kitchen! Whip up these easy recipes and attach a cute label for easy gifts this holiday season (and all year long).
If you love making heartfelt gift check out these homemade gift ideas. Fun recipes with matching tags for everyone on your Christmas list. I also have a Gifts From the Kitchen ebook complete with tags.
Edible Gift Ideas
You won't believe how easy this hot pepper jelly is to make! Serve over a block of cream cheese for a delicious appetizer.
If you have a friend that loves healthy treat this granola will be a hit! No added fat in this recipe and it also has the options for natural sugar. Believe me, this stuff is good. I actually make it every month so I can eat it for breakfast every day.
These cookie and cream truffles are irresistible! Believe me, the gift recipients will love these food gifts. SO good!
Chocolate Chip Cookie Mix in a Jar
What about something for your favorite furry friend? Your dog loving friends will appreciate you remembering their special pal.
Homemade Chocolate Dipped Marshmallows

The best part of making canned jellies and jams is you can make them way in advance and keep them on hand for Christmas gifts.
Homemade Onion & Pepper Relish (tastes like Harry & David's) Since they are no longer in business this is a real treat.
How about white chocolate bark with a twist. Throw it over the top with pretzels and toffee.

These super easy pretzels are a fun DIY gift for kids to help make. These could be cute stocking stuffers for that sweet edible Christmas gift.
Delicious dark chocolate bark wrapped up in the cutest gift box with free label. These would make perfect hostess gifts.
Peppermint Bark with Cute Printable Label!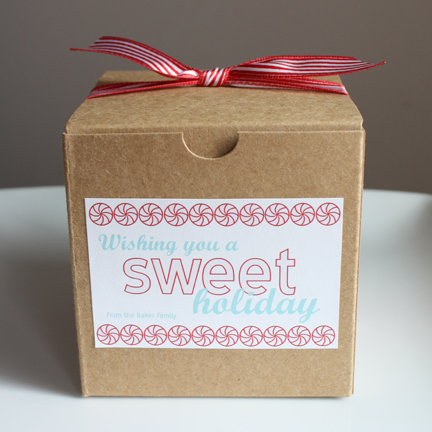 I hope you love these edible Christmas gifts. You might also like these handmade gift ideas. Here are some heartfelt gifts that will make friends and family feel special.
Easier to make than you think and so fun to give… Cocoa Bombs!
This gift is loved! The best part it can be made ahead and the recipient can use it whenever they like since it is kept in the freezer! You must try Frozen Tumbleweeds.
I hope you love these edible Christmas gifts. If you love making gifts take a look at my handmade gift ebook. There are some heartfelt gifts that will make friends and family feel special. You might also be interested in these Mason Jar Gift Mixes.