This Leather Trimmed Zippered Pouch Tutorial makes a darling handmade gift!  Make one for yourself, your sister and your neighbor, can you imagine the cute gifts you "wrap"in it!  While you are sewing you might want to try this diy tablet case or these DIY jumbo hand warmers!   They also make perfect gifts!
This month we are sharing over 100 handmade gift tutorials. I have teamed up with Thirty Handmade Days and Your Homebased Mom to share the best homemade gift ideas.  We have over 100 tutorials so you will have the best homemade holiday ever! Each day be sure to visit the guest poster's blog for a chance to win BIG! Up for grabs is a Cricut cutting machine, a Blendtec blender, a Baby Lock sewing machine and a $300 Michaels gift card! Grab a new entry every day! Visit Skip to my Lou today to enter to win the Baby Lock Sewing Machine.

This leather trimmed zippered pouch would make the perfect handmade gift idea! In fact small little pouches and bags are easy to make and are super useful.  Include a gift card to make one an extra special treat if you like.  You might like this lined zippered pouch,  this cute car shaped zippered pouch, or this simple zippered pouch tutorial. No worries if you don't know how to put in a zipper.  Just visit this  how to put in a zipper tutorial.
Hello there Skip to My Lou Readers! My name is Melissa Mortenson and write the DIY lifestyle blog the Polka Dot Chair. I'm excited to be sharing with you an idea for a simple zippered pouch perfect for holiday gift giving. Zip pouches are one of my all time favorite gifts to sew. They sew up quickly and you can easily personalize them to match the style of the recipient.  To add a professional touch to this pouch I added a little leather trim to the corners.
Supplies for leather trimmed zippered pouch
2 pieces of fabric cut to 12″ x 8″ for the pouch front and back
2 pieces of fabric cut to 12″ x 8″ for the pouch lining
2 pieces of shape flex interfacing cut to 12″ x 8″
2 pieces of fusible fleece cut to 12″ x 8″
1 piece of lightweight leather 3″ x 3″ (tip, cut your leather with a rotary cutter)
glue stick
binding clips
12″ zipper
leather needle for sewing machine
heavy duty thread
regular thread
How to make a leather trimmed zipped pouch
Begin by pressing the shape flex to the wrong side of the pouch front and back pieces and the fusible fleece to the wrong side of the lining pieces. Cut the leather square in half along the diagonal. Apply a little bit of glue to the wrong sides of the leather pieces, glue to the pouch front and hold in place with binding clips.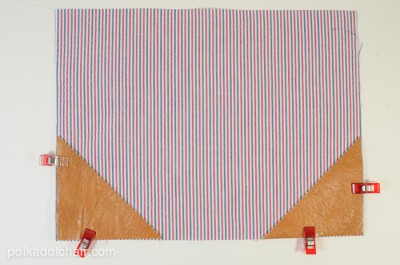 (note I make a lot of these zip pouches, here it's shown in another fabric variation)
Insert the leather needle into your machine and stitch along the edge of the leather using the heavy duty thread. Do not back stitch.
Install a regular needle and thread in your sewing machine.
Now you will begin assembling your pouch. Pin the right side of the zipper to the right side of the pouch front piece. Pin the wrong side of the zipper to the right side of one of the lining pieces. Stitch using a zipper foot. Repeat for other side of the zipper.
Press the pouch pieces away from the zipper and top stitch along both sides of the zipper (this will keep the lining from getting caught in the zipper).  Be careful not to press over the parts of the pouch with the leather.
Unzip the zipper. Pin the pouch lining right sides together and pouch front and back pieces are right sides together. Pin the zipper towards the lining pieces.
Stitch around the perimeter of the pouch leaving a 3″ opening in the bottom of the pouch to turn it right side out.  Be sure to go slow and take special care when stitching over the parts of the pouch where the leather is.
Clip the corners and turn right side out.  Stitch the opening in the lining closed.
I hope you enjoyed this post, if you'd like here are some other handmade gift ideas that you may like: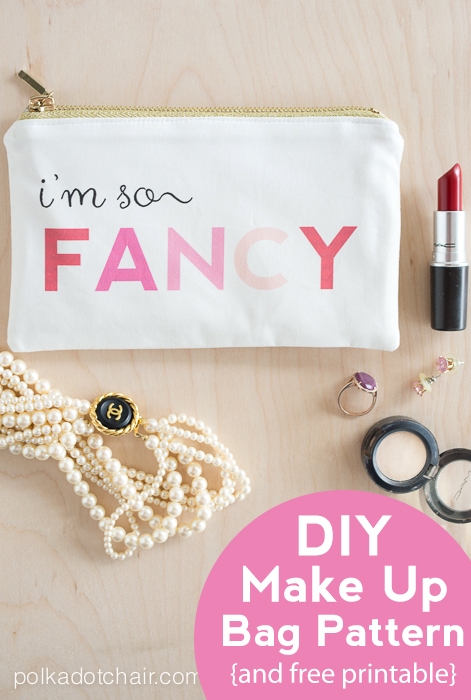 I'm so Fancy Make Up Clutch with free printable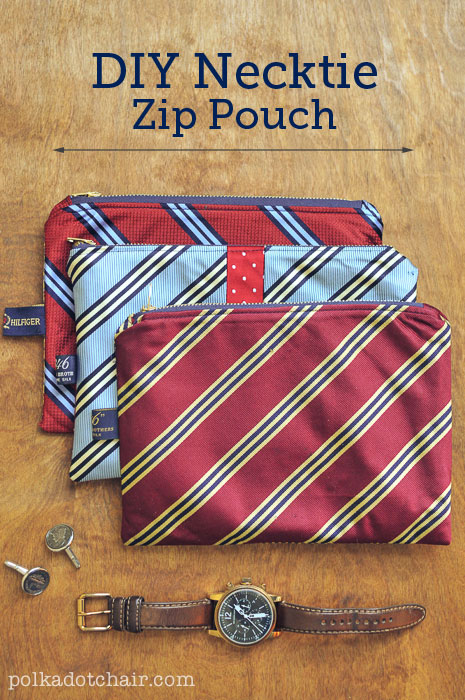 Zippered Pouches perfect for Dad made from upcycled neckties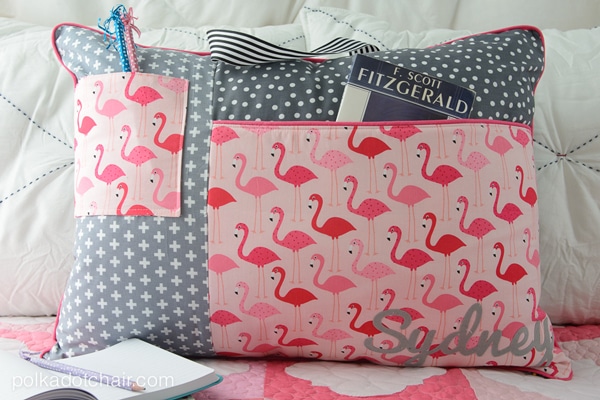 A pocket pillow perfect for teens and tweens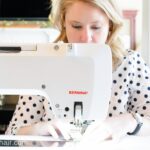 Melissa Mortenson is the author of the Polka Dot Chair blog which is in its 7th year of sharing fresh and creative ideas with readers. She is the author of "Project Teen, Handmade Gifts your Teen will Actually Love" from Stash Books. Her first fabric line "Derby Style" will be released in January 2015 by Riley Blake Designs. A mom of 3, she considers herself lucky to be living in Kentucky.