Welcome Christa of Brown Sugar Toast. She is here today sharing a beautiful fabric flower tutorial!
Christa writes….
Hey there! I am so happy to be here with all of you at Skip to My Lou! My name is Christa and I blog over at Brown Sugar Toast. A little about me:
1. I am married to the love of my life. He's a youth pastor and is the best one ever. 😉
2. We have a precious little girl – and one in heaven.
3. I love to run and just finished my first half-marathon in November.
4. I have a humongous weakness for all things chocolate – most specifically brownies and m&m's. amazing.
The title for today's post is
What to Do with an Old Bridesmaid Dress
You know what I'm talking about, right? This is how the story goes:
Your friend had a beautiful wedding.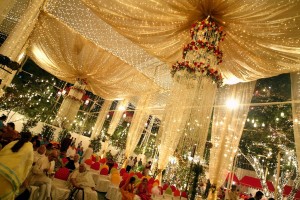 (By the way, did you notice the source for the pic above? ha – seems fitting, right?)
You were the bridesmaid.
She chose a satin-y dress.
You wore it and looked beautiful (or not 😛 ).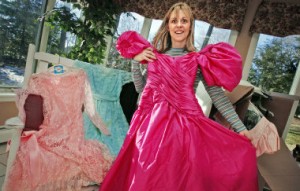 You kept the dress but never wore it again.
Yes, I have been in the same situation.
Recently, I found a bridesmaid outfit I wore in my sister's wedding. I saved it because I really liked it – but I tried it on & came to grips with the fact that I would never wear it again. So…I decided to make something out of it. 🙂 Can't let all that material go to waste, now can we?
Here's what I made:

Fabric Flower Tutorial
And here's how you can do it too:
Start with a bridesmaid dress, skirt, top, or…if you don't have one…just start with a piece of polyester satin: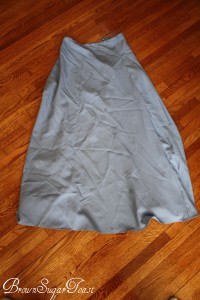 Can you tell that I hate ironing? Once again, ironing is not needed for this project. Yippee! Sign me up!! 🙂
Get some good, sharp scissors: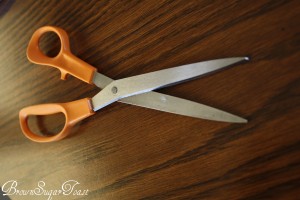 (don't be deceived – these scissors aren't sharp at all. just go with what you have;))
Take the hint that your daughter is ready for a nap and put her down – after removing her from your beloved dress: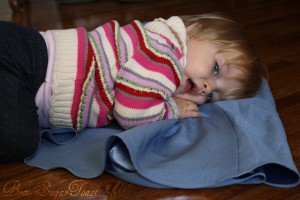 Now, to get started…Cut your satin into squares –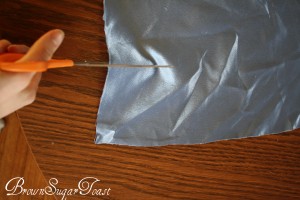 the size and amount of squares depends on how full you want your flower to be. Let's start with 5 layers like I did. Here are the dimensions for the squares:
Layer 1 – 3.5″ x 3.5″
Layer 2 – 3″ x 3″
Layer 3 – 2.5″ x 2.5″
Layer 4 – 2″ x 2″
Layer 5 – 1.5″ x 1.5″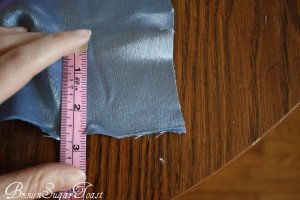 I just held the measuring tape up to the fabric and snipped it, then cut it all the way through.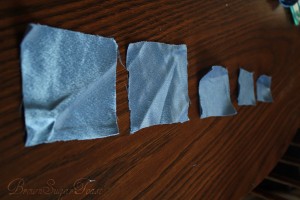 Now, it's time to round the corners of your satin squares: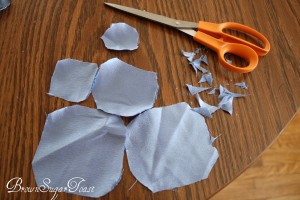 Now, you need a candle. The flame should not be out of control…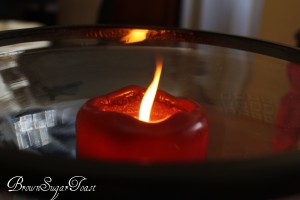 It should be a nice, soft flame 🙂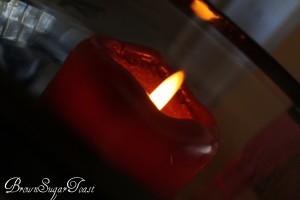 Aaaaahhhhh, much better. Take your rounded square, and put it near the flame, like so: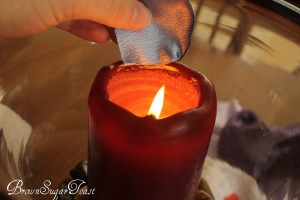 The edges of the satin will begin to curl. Rotate the satin until the whole piece has a nice, curled edge. Continue until all 5 layers are "curled." If a little bit of wax gets on your flower because you were not paying attention and got to close to the candle: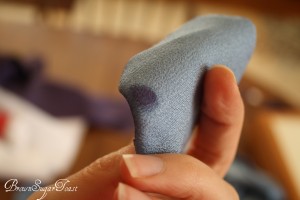 just cut it off and re-burn the edge. no biggie.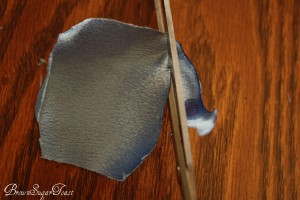 If you begin to see other things in the room catch fire, it might be a good idea to do this: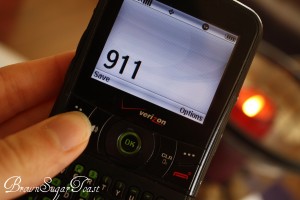 And, if you're beginning to feel lightheaded and your eyes are doing funny things from staring into the flame for such a long time, it is most definitely a good idea to have some of this: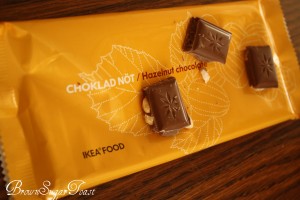 yes, I like Ikea for their furniture and super cool "as-is" section,
but this is quickly becoming my fave part about them 🙂
Now that all the commotion is over, let's get back to flower making, shall we? Get some thread that is a similar color to your fabric: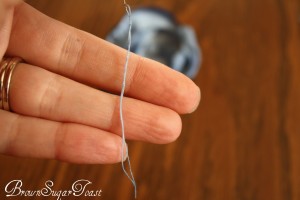 Place the layers on top of each other in a way that looks flower-like to you: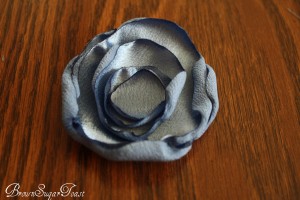 and start sewing them together, starting from the back. I went through quite a few times – just until I felt it was secure.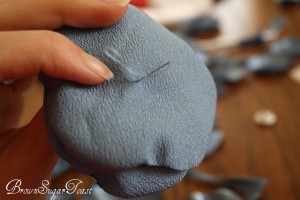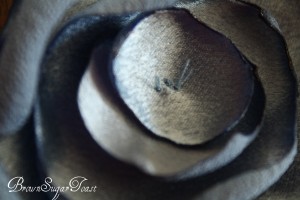 Now comes the fun part!!! Pick your center for the flower. Here's my flower with 3 beads left over from a necklace my daughter broke. 🙂 I just sewed them through the center of the flower. easy.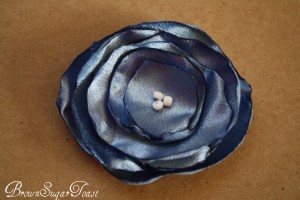 Or, you can pick up a pack of button-like things (what are these called?) from the fabric store (these were 10 cents!!),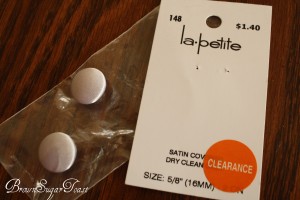 fire up your hot glue gun,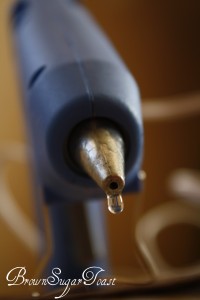 and glue one of those babies on the center of the flower, making sure to press down to seal it together: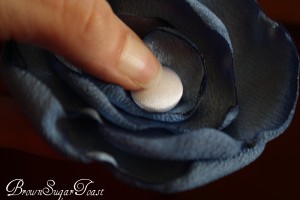 I also put a few little dabs of hot glue around the edges of my flower because I didn't want the layers floppin' all over the place: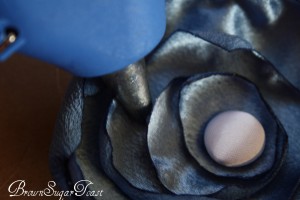 How 'bout it?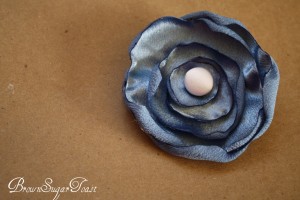 There are so many funnnnn things you can do with these flowers!!
Attach it to a headband: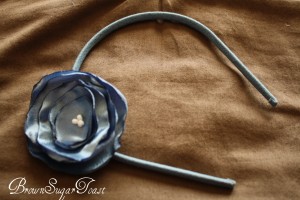 Wear it on a sweater: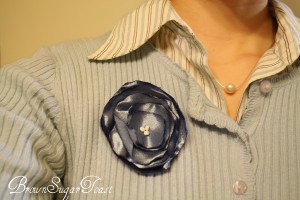 Hot glue a clip on it: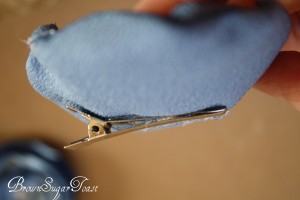 and wear it in your hair: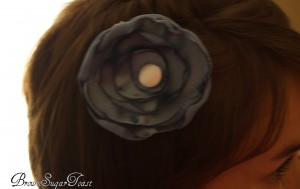 And if you're going to do that, then why not make 2 of them – one for yourself and one for your daughter?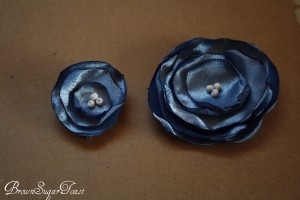 Then you can wear them together and look oh-so-cute. For those of you who like the look, but don't want to make them yourself, I have a few in my etsy shop…just for you. 🙂
So, what do you think? Anyone have some old bridesmaid regalia you're going to cut up? Another place I haunt is the fabric remnant section in craft/fabric stores. It's a great place to get scraps for *cheap* and then you won't feel so bad if the project doesn't turn out.
Happy crafting! Let me know if you make a flower!! I'd love to see your pics!
A big thanks to Cindy for letting me join you all today! I'd love to get to know you a little better, so feel free to drop in sometime. The good thing about blogland is – you'll never find me in my pj's and without makeup, so anytime is a good time to stop by. 😉