From hosting a shrimp boil, celebrating holidays, making homemade scratch art paper, sewing gifts and throwing parties to cooking delicious food, you will find it all here at Skip To My Lou. The site is full of free patterns, downloads and I hope plenty of inspiration. Please hang out with me awhile and check it out!
read more >
Homemade Bubble Blower from How Does She?

The awesome girls from How Does She? are here to show us how to make the coolest homemade bubble blower!
How Does She? writes…
Making Bubbles
Here's an idea that will keep kids busy!!!! I thought with the warm temperature coming and kids out of school, now would be the time to bust out this idea! Making some Bubbles
To make your own homemade bubble blower start out you need a water bottle…empty.
I gave my kids a water bottle and they drank it fast. Okay they didn't…I caught them pouring it on the plants, but it was a good thought! Is it just my kids who would rather have their teeth pulled than drink a glass of water!?!
Back to making snake bubbles…Cut off the bottom of the water bottle.
Use a piece of fabric and put an elastic around it to hold it on. An old rag or an old sock does the trick. Hey, we are recycling 2 things, water bottles and socks. Here's to a green tutorial!
Put some dish soap in a shallow bowl. I added a little water to make it go further.
Dip it in.
Start making bubbles by blowing.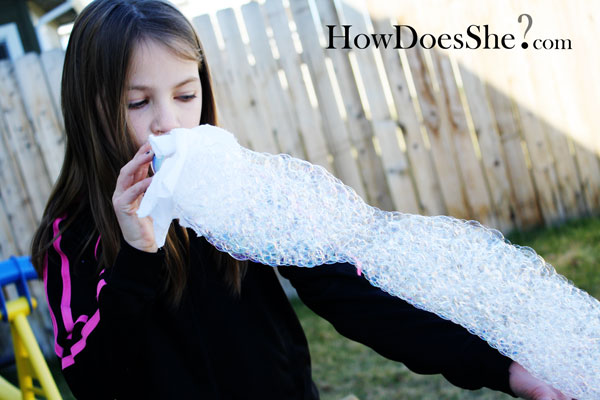 Tip: Don't let them blow too hard or the rag will pop off. A light steady gust of air will produce bubbles to make your little ones squeal. I think I heard my husband squeal too, but he'd never admit that:)
Have a contest for the longest snake, make a hat with the trail of bubbles, or try to pop them as they float away.
Making bubbles with kids is super fun and thrifty!
For loads of ideas from decorating to crafts visit How Does She?!
Find all the kid's crafts in the craft camp series by clicking on the Craft Camp button on my left sidebar.
---