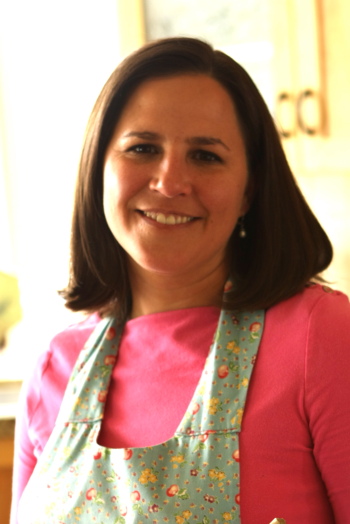 Hi! My name is Calli from Make it Do. I am a mother of three grade school kids and a big fan of their teachers. I am so happy to be part of Skip to My Lou's Teacher Appreciation Ideas Week.
Teacher Appreciation is the perfect chance to say "Thank You!" to our favorite teachers, librarians, and school staff.
I owe my kid's teachers so much. They spend hours each day with them, care about them, and give them essential tools to help them succeed in life.
Every year when Teacher Appreciation rolls around I look for a gift that shows how much that means to me. I know it's not the expense of the gift that matters, but the thoughtfulness.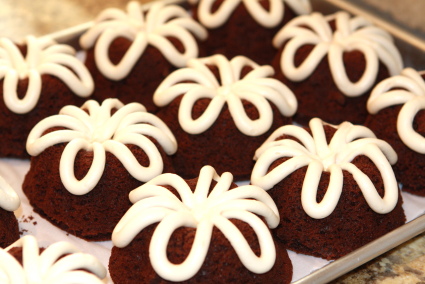 A small cake, cupcake or mini bundt cake is a perfect gift. Cake is the way to my heart after all. For Teacher Appreciation I love mini bundt cakes because the recipe is easy enough for the kids to help… always a bonus. It's a treat that seems special and fun. Here's how to make them:
Chocolate Bundt Cake
1 box Devil's Food Cake (I prefer Betty Crocker)
1 1/3 cup oil
4 eggs
1 small box chocolate pudding
½ cup warm water
1 cup sour cream
1 cup chocolate chips

Mix ingredients together, adding the chocolate chips last. Pour into greased mini bundt pan. Bake at 350 for 18 minutes or until a cake tester comes out clean. Recipe will make 12 mini bundt cakes. Cool completely before frosting. Place frosting in a pastry bag using a medium smooth tip (mine was a Wilton tip #12) and pipe back and forth in loops like shown:

Easy Butter Frosting
1/3 cup softened butter
3 cups powdered sugar
1 – 1/2 tsp. vanilla
2-3 Tbsp. milk depending on desired consistency (a little stiffer is better for the bundts)

Mix together til smooth. Add coloring if desired.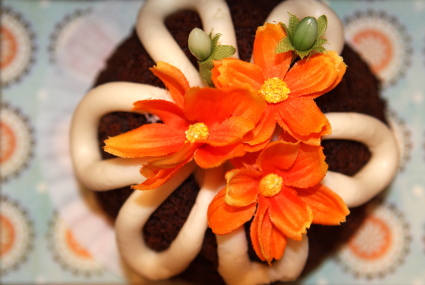 I love to give the mini bundts in a small gift box, just to make it feel a little fancy. And speaking of fancy how about flowers on top? Is that too much? Not for me.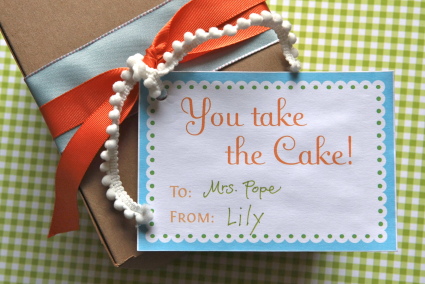 And since no gift would be complete with out a tag. I've created a sweet little printable just for you.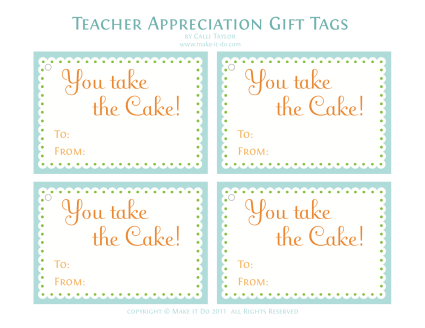 Click here for the downloadable PDF.
Don't miss more awesome teacher appreciation ideas